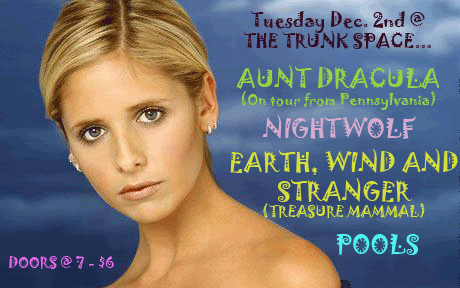 First off, there are two great shows coming up this month. The first in the flyer above you. My band
Night Wolf
will be performing with a band i am not that into but i hear they are pretty fun live called
Aunt Dracula
who is on tour from Pennsylvania. As well as
Pools
which is a "90's Rock" style of band (think 3rd eye blind and semisonic) and Earth, Wind and Stranger (aka
Treasure Mammal
) who will be performing some new jamz that night too.
The second one is "VALUE FEST!" which is the one shown just above this text. The show is only $1 and i garuntee all the bands are good and fun and crazy and amazing! i have already talked up a few of them in this blog! because i love all of them sooo much! and one of the most exciteing things to happen at this show (if not THE most exciting) is
THE CHILDREN OF HELL
ARE PLAYING! and they havent played a show since my farewell show August 16th, 2006! and they are soo good! here are some pictures from old live shows!
They are one of those bands that is just so amazing, but hardly ever does anything. They have recorded a hand full of songs and non of the recordings are that great (or released) [EXCEPT: "D is for Destiny" which will be available soon i hear.] They have been around since July, 2004 but have only played roughly 10 shows. So it's totally a special treat to see these guys if/when you can.
Also, i thought i would share with you my own little "reviews" of 3 albums i listened to today.
Andrew Jackson Jihad "people who can eat people, are the luckiest people in the world".
This is not my favorite AJJ album but i will say that i think it is a brilliant and beautiful album and i would really love if there was a band that sounded like this all the time and toured and put on music regularly. You see, this album may be andrew jackson jihad songs performed by andrew jackson jihad but, there is a TON of extra instrumentation. Normally with the Jihad there is only acoustic guitar and upright bass. This album includes not only that but accordian, pianolin, cello, singing saw, manolin, violin, slide guitar, electric guitar, gloskenspiel, trumpet, drums and banjo. Which makes for a beautifuly orchestrated piece of music but not what Andrew Jackson Jihad sounds like.
FAVORITE TRACK(S): 02 Brave As a Noun, 05 No More Tears, 08 A Song Dedicated to The Memory of Stormy The Rabbit and 11 People (which is one of the most positive songs i have ever heard)
Night Wounds "Allergic To Heat"
I have seen Night Wounds 2+ times at least and i must say they are a lot of fun to see live. The first time i saw them i picked up a little 3 song demo thing, that was pretty good and able to hold me over till i saw them again and i picked up there 7" from them. When i got this full length from James Fella the other day this is one of the albums i was most excited about because i was hopeing to get some new excitement and positive feelings about them. But sadly i felt this album did not deliver what i had hoped for. All the recordings are pretty raw and live. Which are both fine and i dont mind most of the time but i wasnt wanting or expecting that, so in the end i felt dissapointed. Which bums me out because i love this band. So i think i am going to have to listen to it again a few months from now and give it another shot.
FAVORITE TRACK(S): 03 Nineteen and 04 Ex Best Friend
Mooey Moobau "All Murmer of our Mothers' Waters"
This album is the latest project
Joe Tepperman
(
The Nourishment
and GST Mugwump
) has been involved with. He gave me a copy of this at a Fathers Day show in LA in early November. I finally got around to listening to it. (although i am still unsure why i put it off for so long because Joe is one of my heroes) I listened to it in the car while i was on a delivery for my job. The music and sounds created on this album are so intresting and mind numbing and fantastic (in the literal sense of fantasy and wonder) that it was difficult to concentrate on driving and i almost ended up in a car wreck. Thats all i really have to say about this, so let it be a word of caution: DO NOT listen to this album while driveing or operating heavy machinery, or you might die.
FAVORITE TRACK(S): 02 Trap Door and 07 The Dead Plant on my Desk